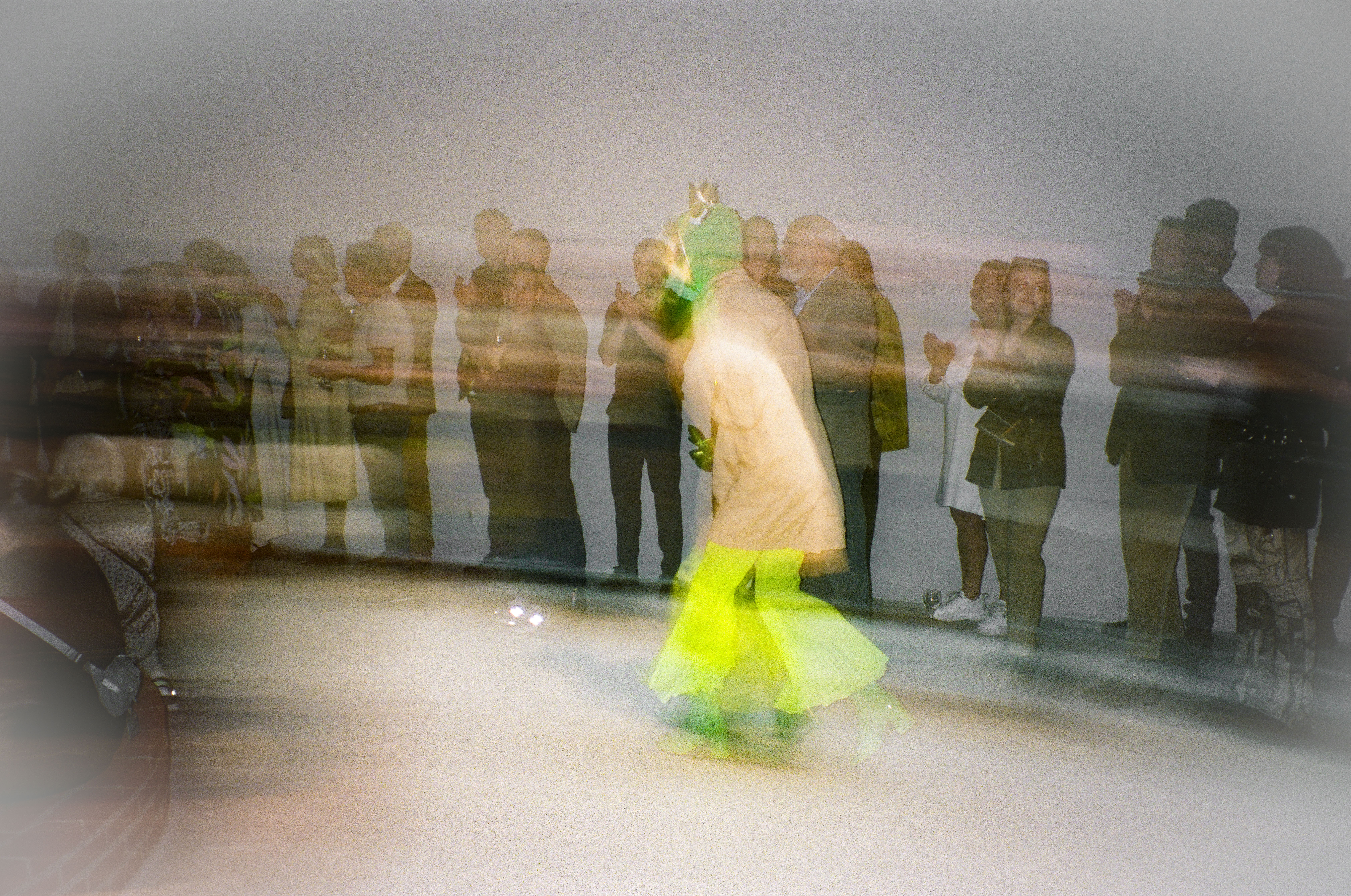 In the performance "The Wide-Mouthed Frog" we meet a frog trying to perform a striptease routine for the director of an art hall, but midways it has a breakdown and starts ranting about the struggles of being a frog and and artist in a post-capitalist society. It's a story about performance art and experience economy, loneliness and capitalism, fetischisation, frogs and sex.
The performance was developed for the opening of CPH Art Week, 2022.
"…And as you know in the art world often they can't offer you money, but they can offer you a lot of exposure! Too bad the only thing I got exposed to was gonorrhea…
Sorry am I using that word correctly? Exposure? I think the word I was looking for was… Exploitation? Sorry I always mix up the two of them..."
Duration: 20 min (Watch an excerpt here or send a mail to request the full lenght video)
Nikolaj Kunsthal, CPH Art Week, June 2022.
Arken Museum for Contemporary Art, November, 2023.
Resort
Installation, performance, 60 min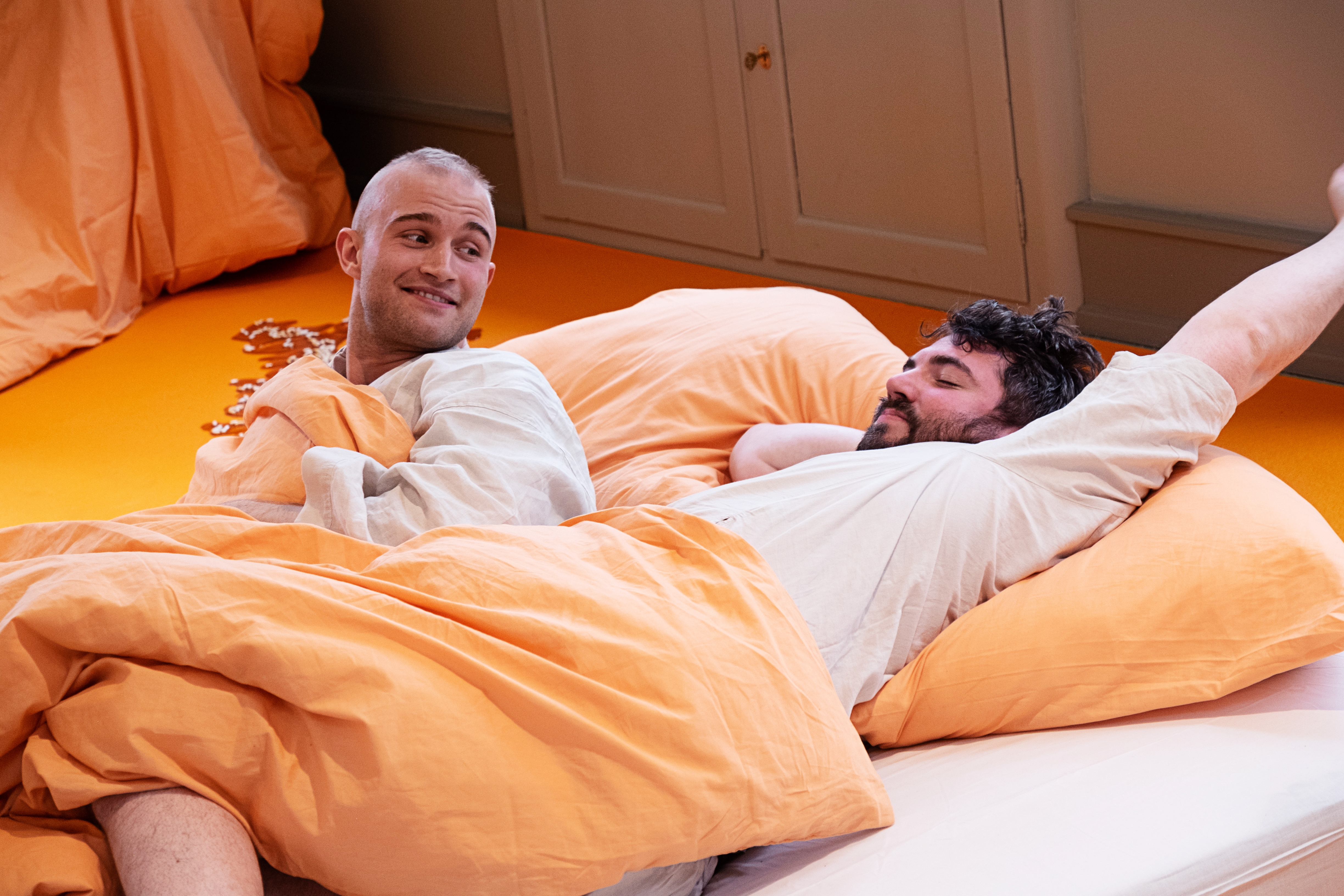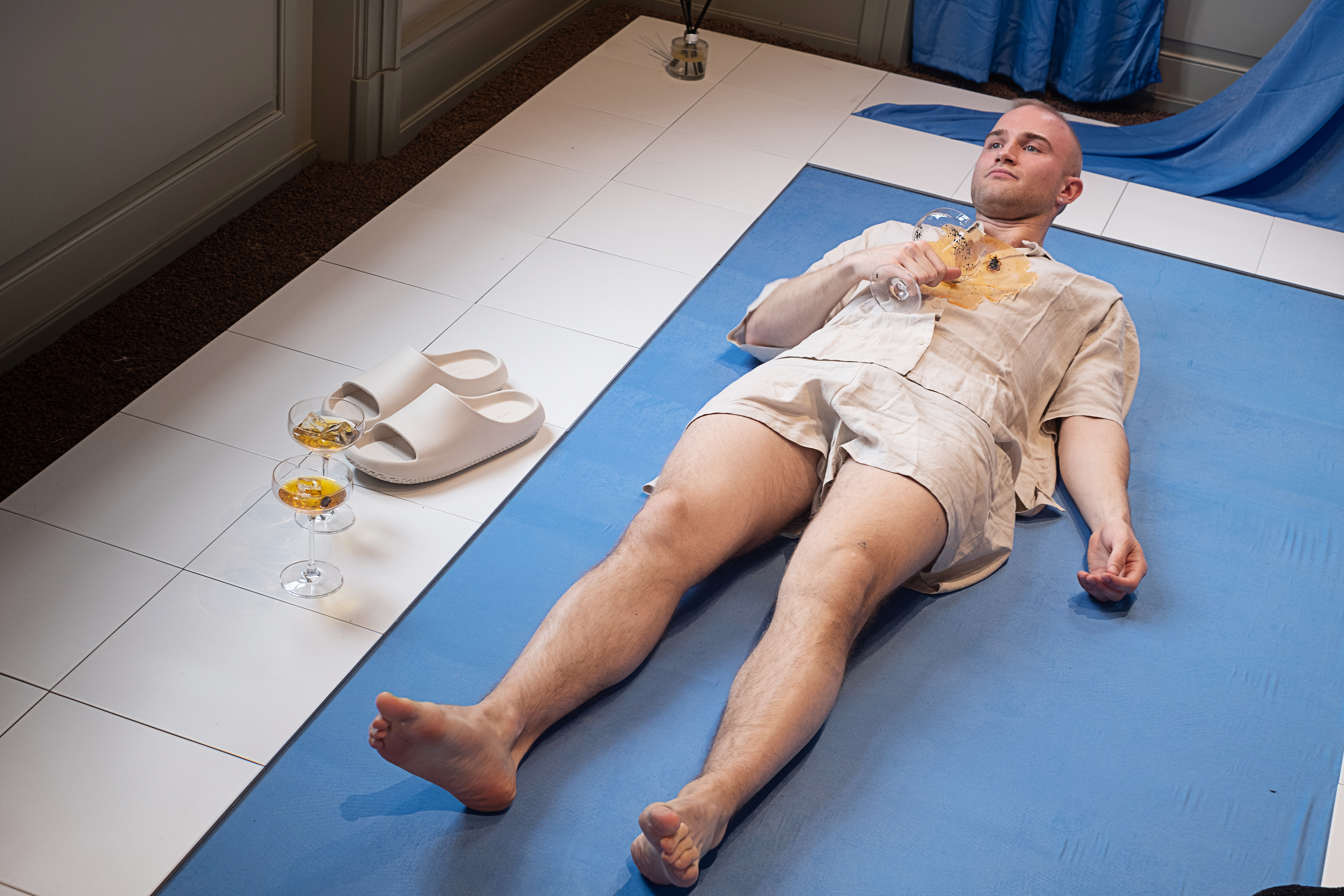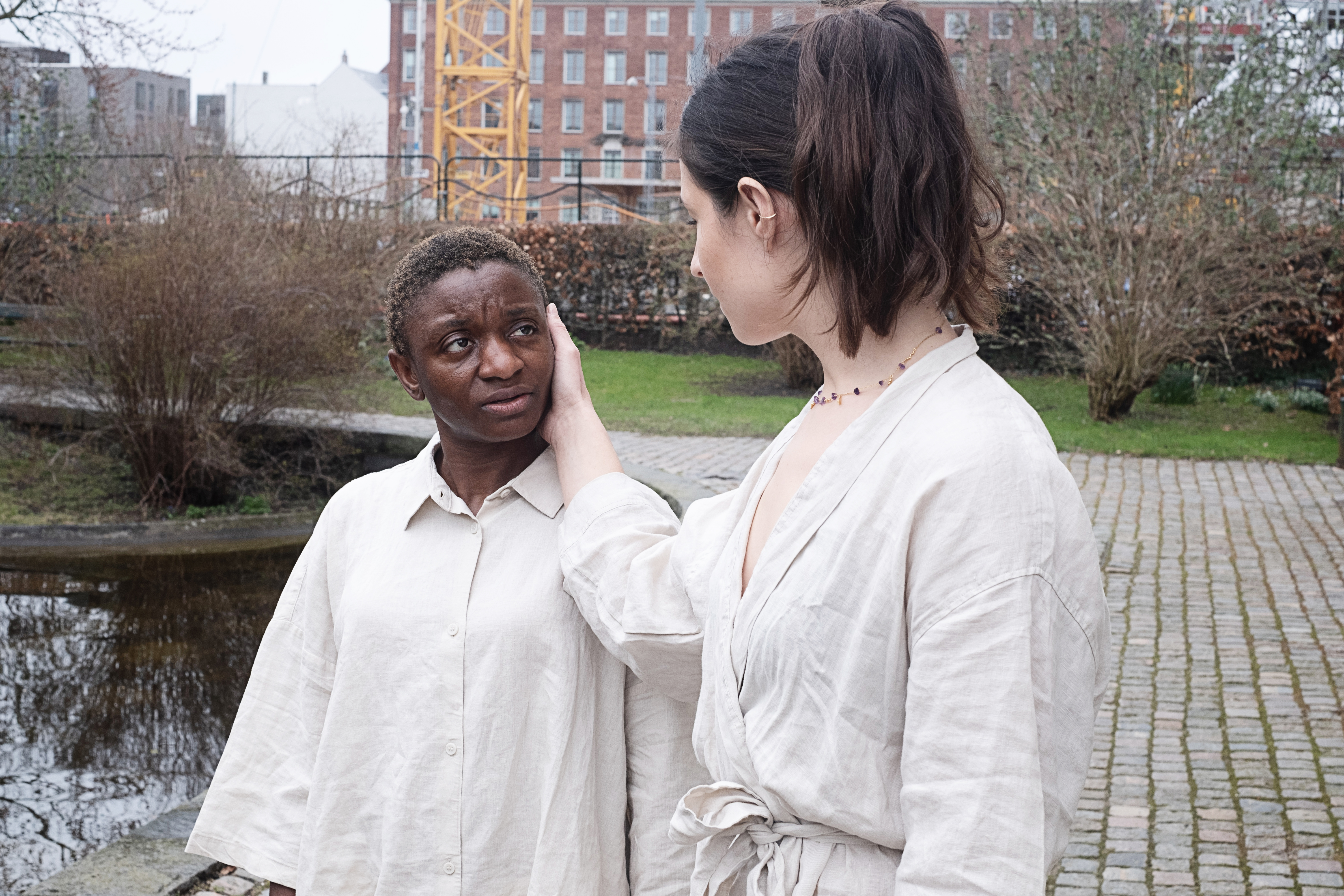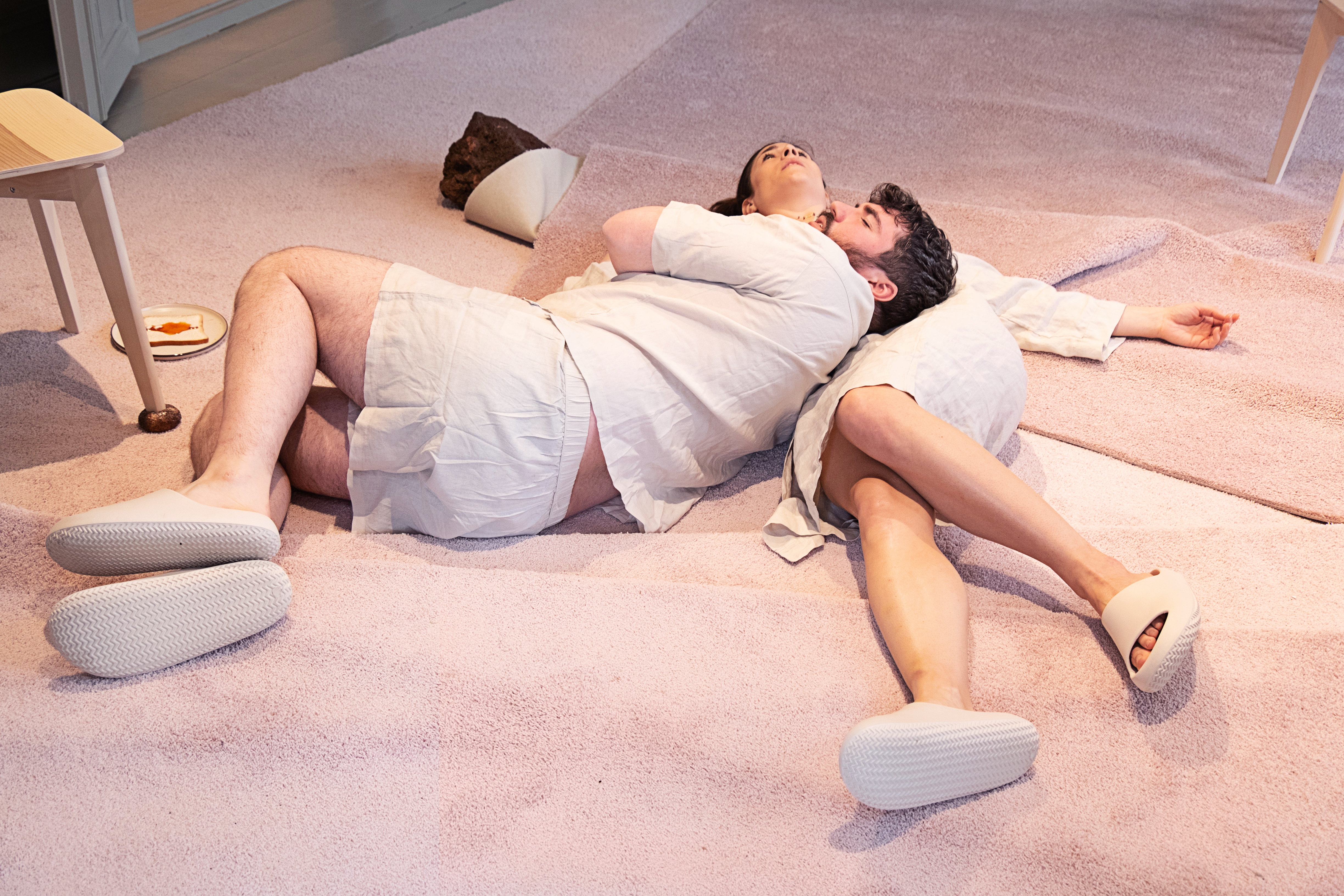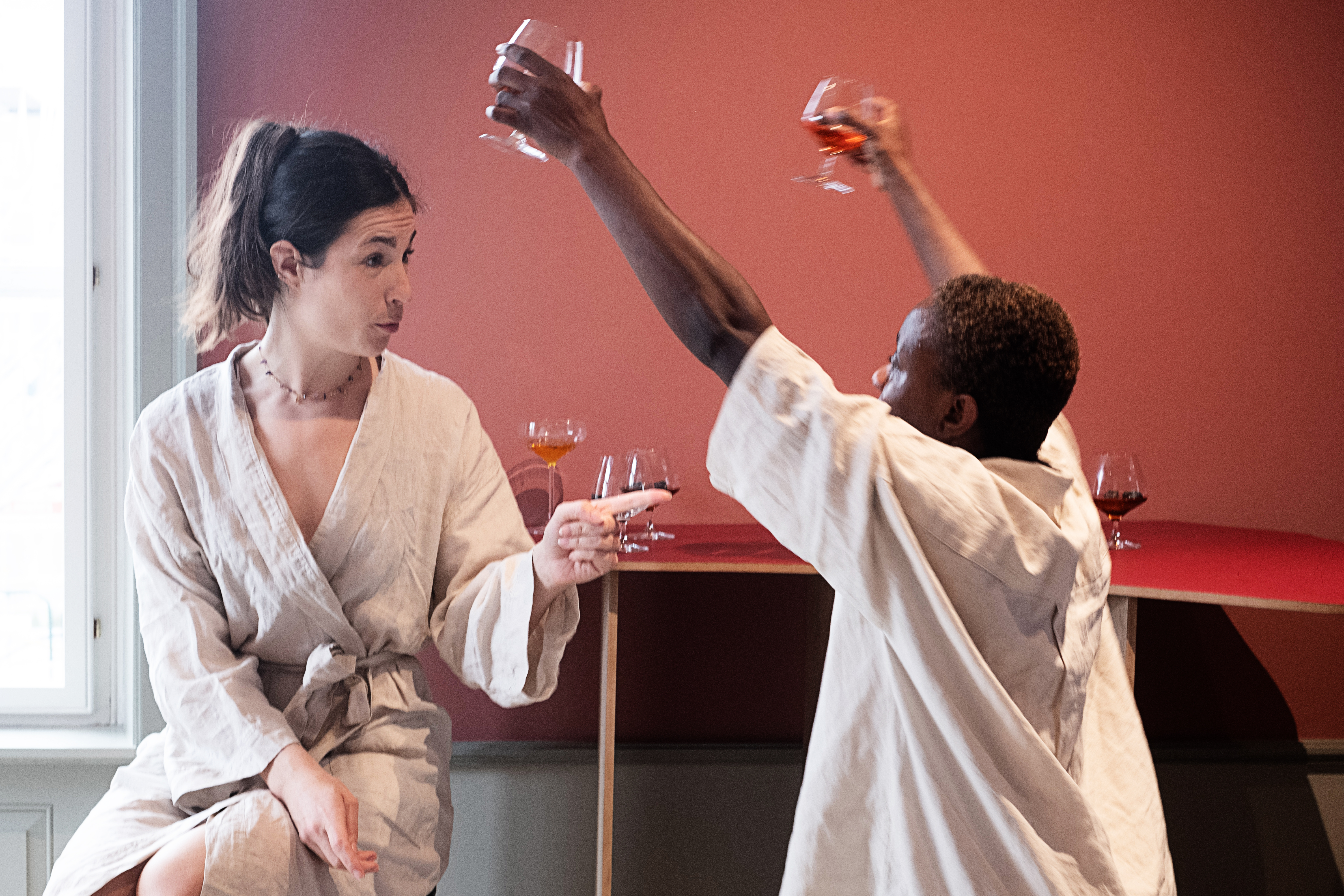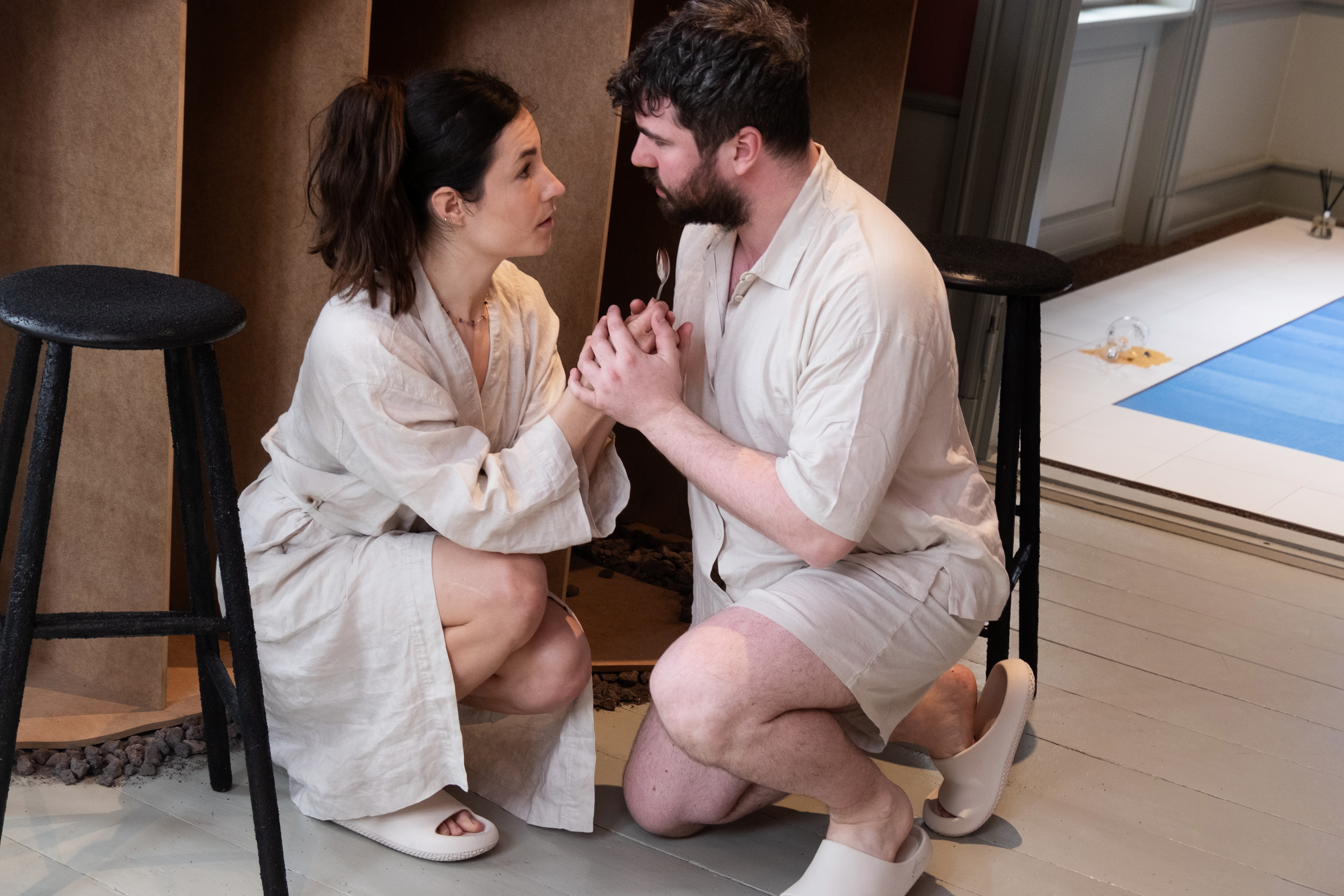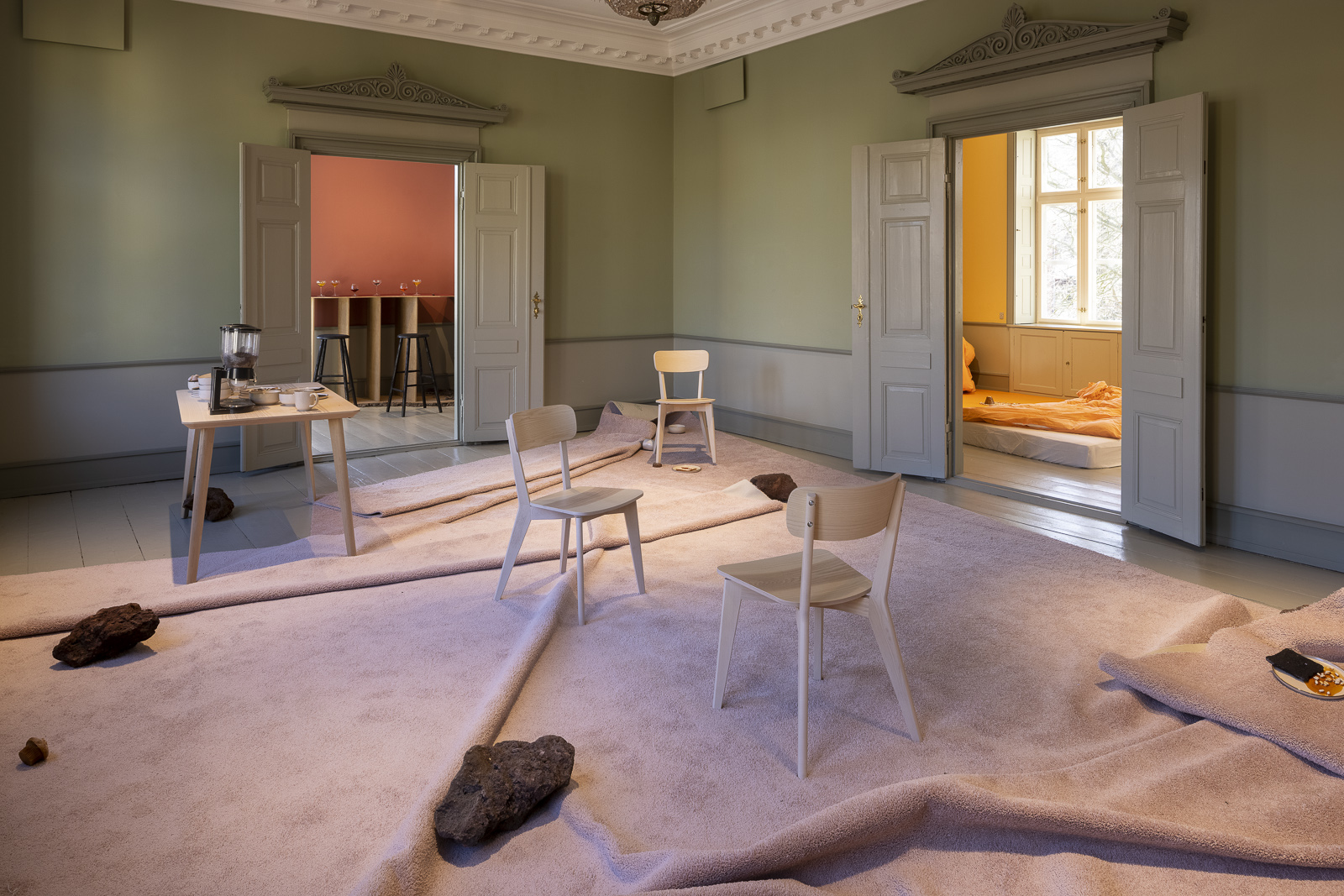 "Resort" is an exhibiton and performance about a fictional surreal holiday paradise, where climate crisis, human isolation, escapism and doom lurk right under the luxurious surface.
The performance revolves around a couple that has gone on a holiday to a resort to fix their relationship. They begin a role play, where they pretend to be two strangers that meet in a hotel bar, but as they try out different scenarios they slowly lose their sense of self.
Resort
is a fictional universe where everything appears porous; nature and culture, identities and relations, and past, present, and future coalesce, while small and bigger movements affect each other, both plate-tectonically and relationship-dynamically.
The exhibition is inspired by Møstings' origin as a summer residence for the wealthy citizens in the late 19th century.
Resort
is an exhibition about wishing yourself far away, dreaming of being anywhere but here. About anxiety, escapism, and new identities, and about missing something before you have even lost it.
Performers: Marie-Lydie Nokouda, Kristoffer Eriknauer, Louis Bodnia Andersen and Emma Silja Sångren
Reviews: Bastard + ISCENE + Den 4 Væg

Møstings, Copenhagen, March-June, 2023

Supported by Statens Kunstfond, Arbejdernes Landsbank, Beckett Fonden, Colour Ceramica and Rosendahl Design

Photos: Torben Eskerod + Palle Bo Nielsen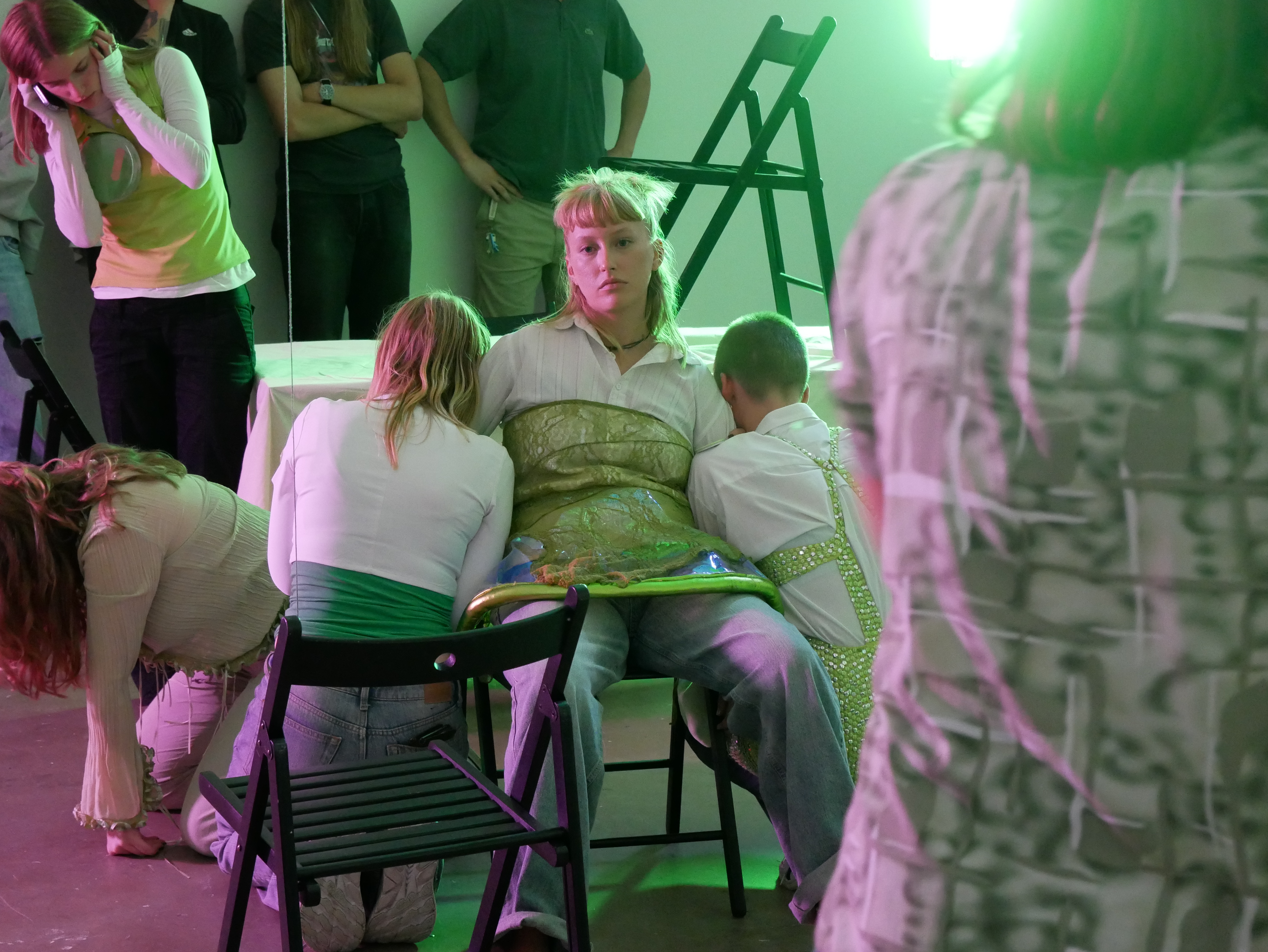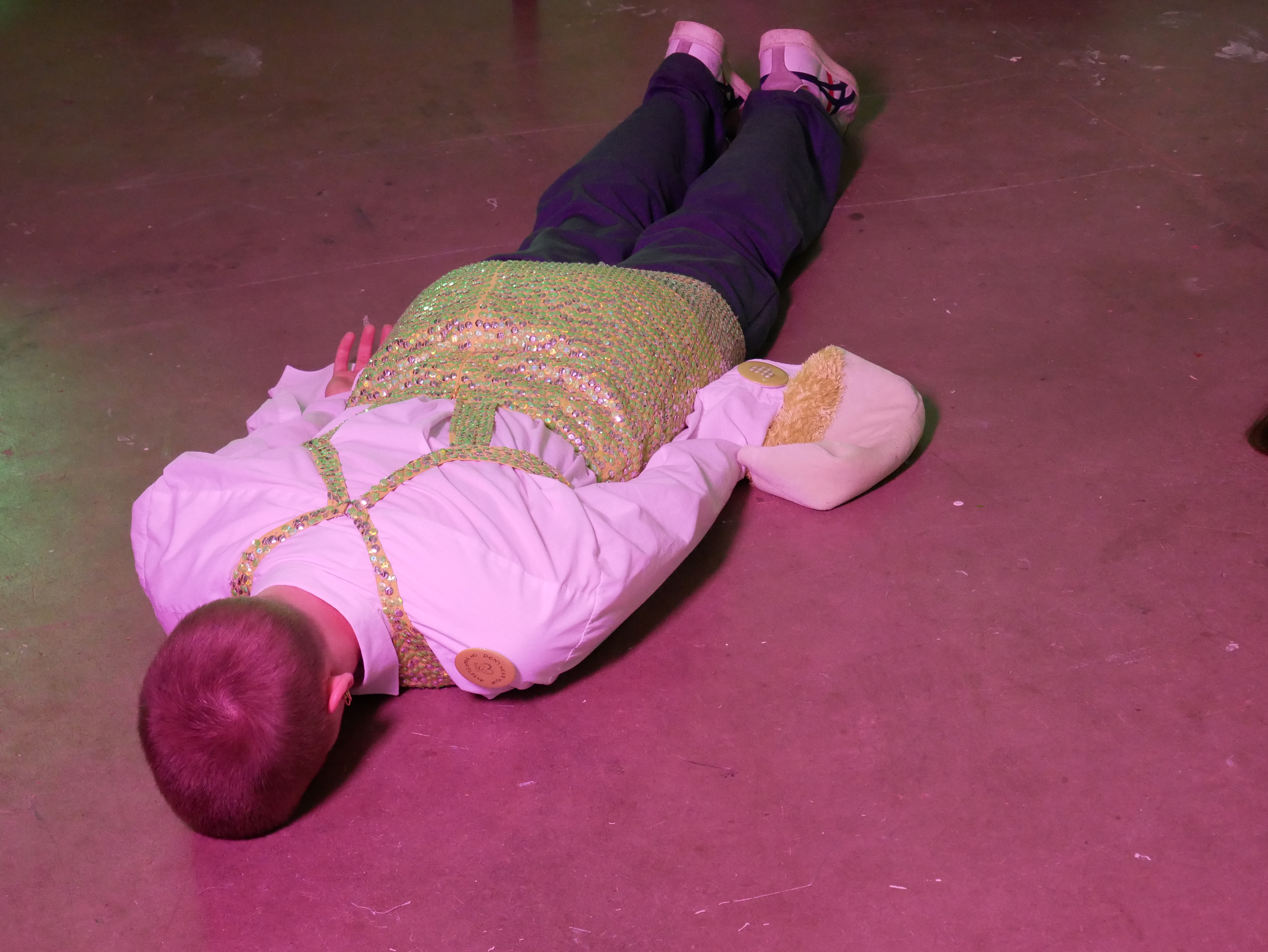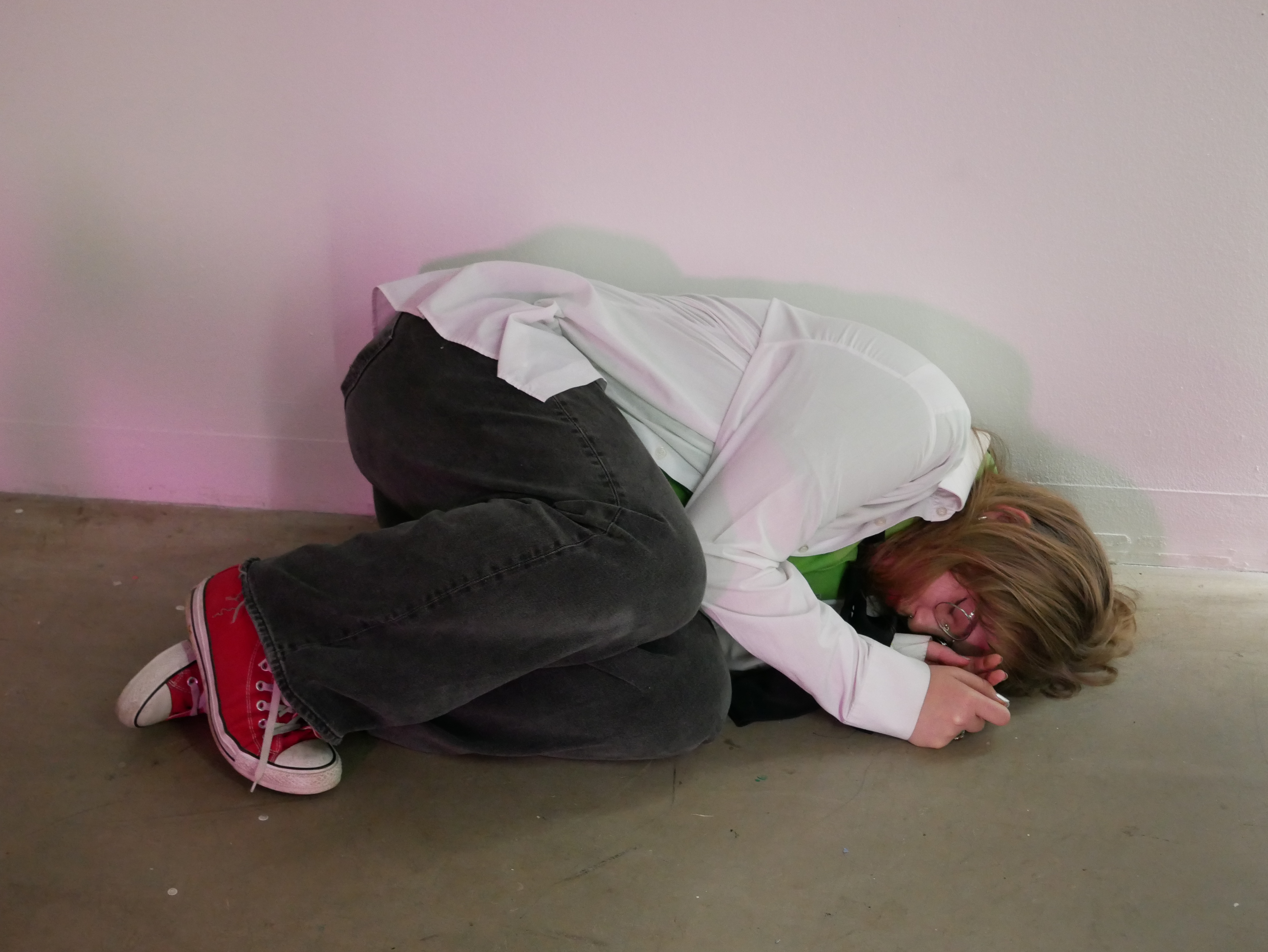 Hjertet på ærmet ("The Heart on the Sleeve") is a project about the party as a place. The performance is structured as a party where a rift happens. It's that moment where you feel too much, where you're suddenly reminded of your own mortality, the end of the world or a heartbreak.

The project is an exploration of the cool and the cringe, ecstacy and apathy, oversharing and intrusive thoughts on the dancefloor. On having a serious talk between two sips of a drink, crying in the club, being boring, leaving the party...

All the movement scores and text material for the performance was created together with the students at Krabbesholm Højskole.


Kulturmødet Mors, 2023, in collaboration with Art Hub Copenhagen and Krabbesholm Højskole

The performance was made in collaboration with and performed by the art students from Krabbesholm Højskole, autumn semester 2023: Alfred Lillo-Sæther, Henriette Andersen, Ingrid Bach Jensen Bang, Ingrid Johanne Opheim Ellis, Johan Ruus, Klara Emma Lilhav HoffmannLea Fagernes, Linn Eneljung, Linnea Ringstad, Nanna Gade, Lori Rosali SommerStella Lovisa Braun & Synne Elisabeth Bøe

Assistant: Anna Caroline Kristensen

Film: Hans Ravn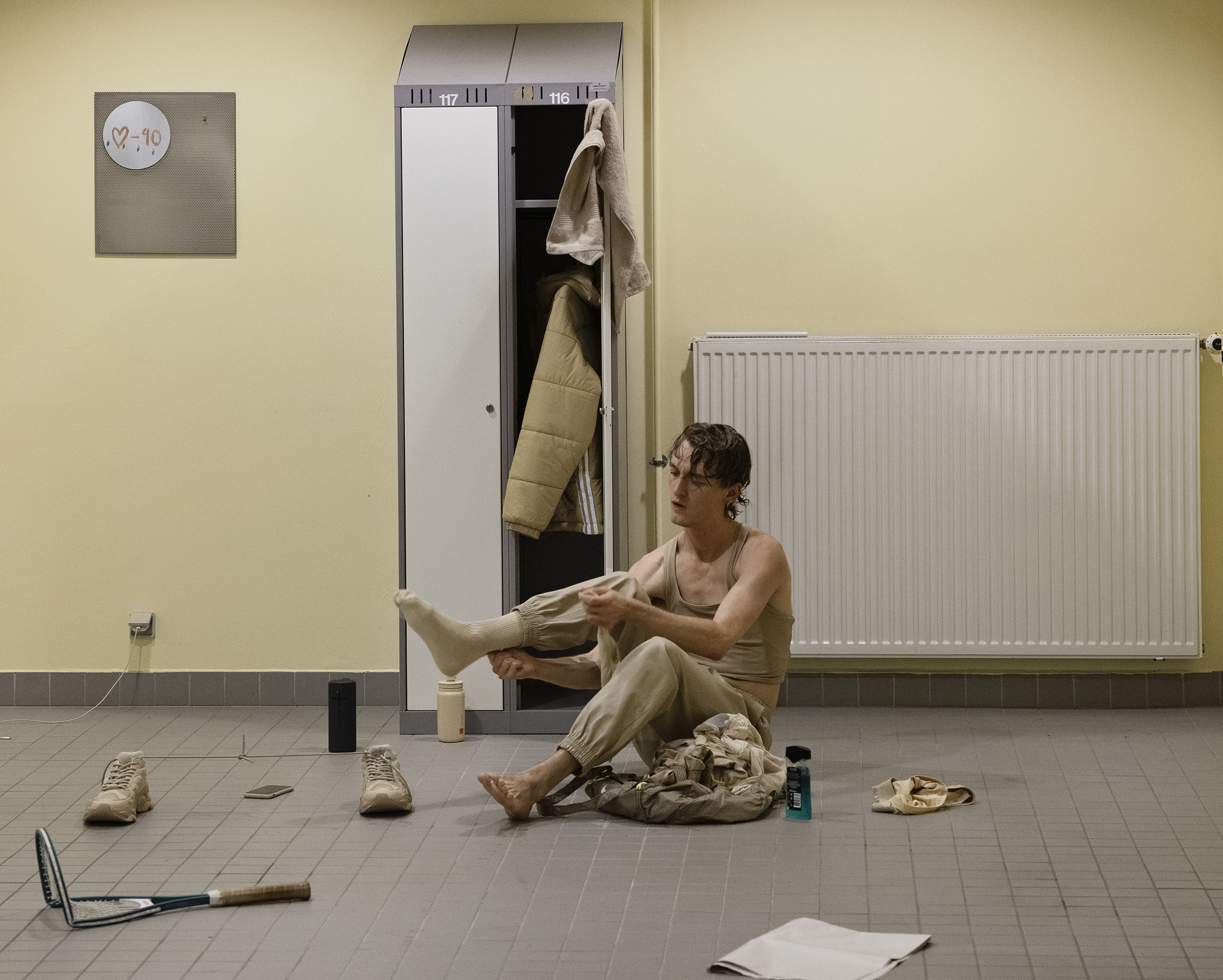 In 1917, the Danish tennis player Leif Rovsing (1887-1977) was banned from all tournaments because rumours about his homosexuality had begun to circulate. During the following years, he tried to contest the decision again and again, but with no luck. Eventually he ended up building his own tennis court that opened its doors in 1921.
"Foot Fault" is a reimagining of Rovsing's tennis court. It's an exhibition about rules, sex, queer bodies, (tennis) fields of one's own, and losing as a form of winning.
KHM Gallery 2, MFA graduation show, June 2021
Copenhagen Contemporary, performance, September 2021
Filmkys / Movie Kiss
Installation, film, performance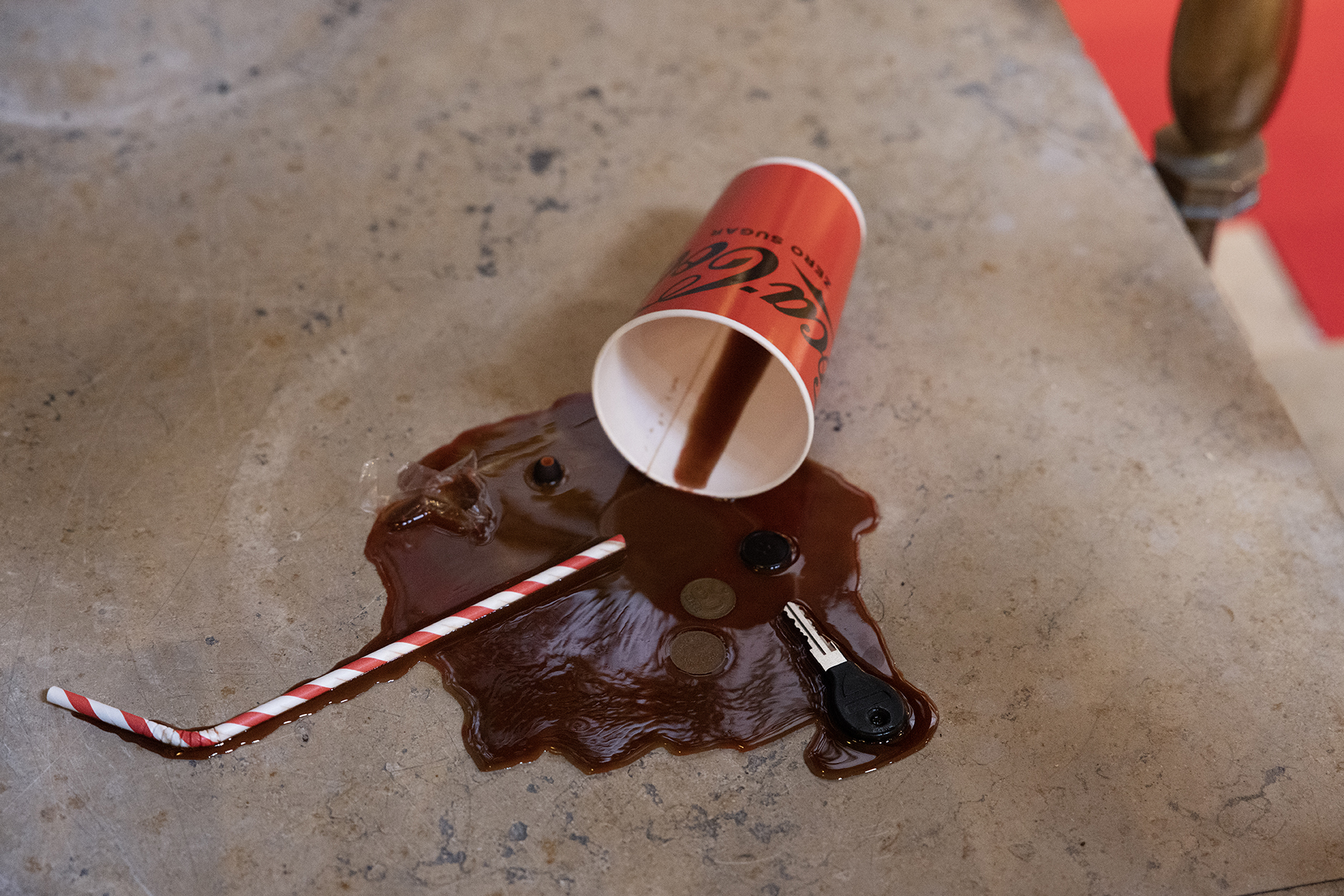 "Filmkys" ("Movie Kiss") is a performance and exhibition about cinema, desire, intimacy and our oversaturated and deficient language for love. It's a story about clichés, fake kisses on the screen and hesitant kisses in the dark, about which roles we cast and miscast each other as in the film, we call our life.
At the opening a performance took place, where people reenacted famous movie kisses. During the exhibition period a film was screened in the cinema about all the things that happen in the dark, while the movie is running. A hand brushes another hand, a distracting smell, a piece of candy is eaten, another piece is lost, the moment your realize it's the wrong movie, moving out from the dark into the light streets, losing the sense of time, an awkward goodbye, "I'm going that way", "Me too", "Okay"…
The exhibition was originally developed for the opening exhibition of the new exhibition space Foyer Contemporary that inhabits the foyer of the cinema, Park Bio. The proejct was later remade for Celsius Projects in Malmö.
In connection to the exhibition Filip Vest invited curator and writer Håkon Traaseth Lillegraven to write an exhibition companion. His essay
The Code
, a text about movie kisses and queer cinema can now be read on IDOART.
Click here to read the essay
Foyer Contemporary, Copenhagen, November-January 2022-23
Celsius Projects, Malmö, November, 2022