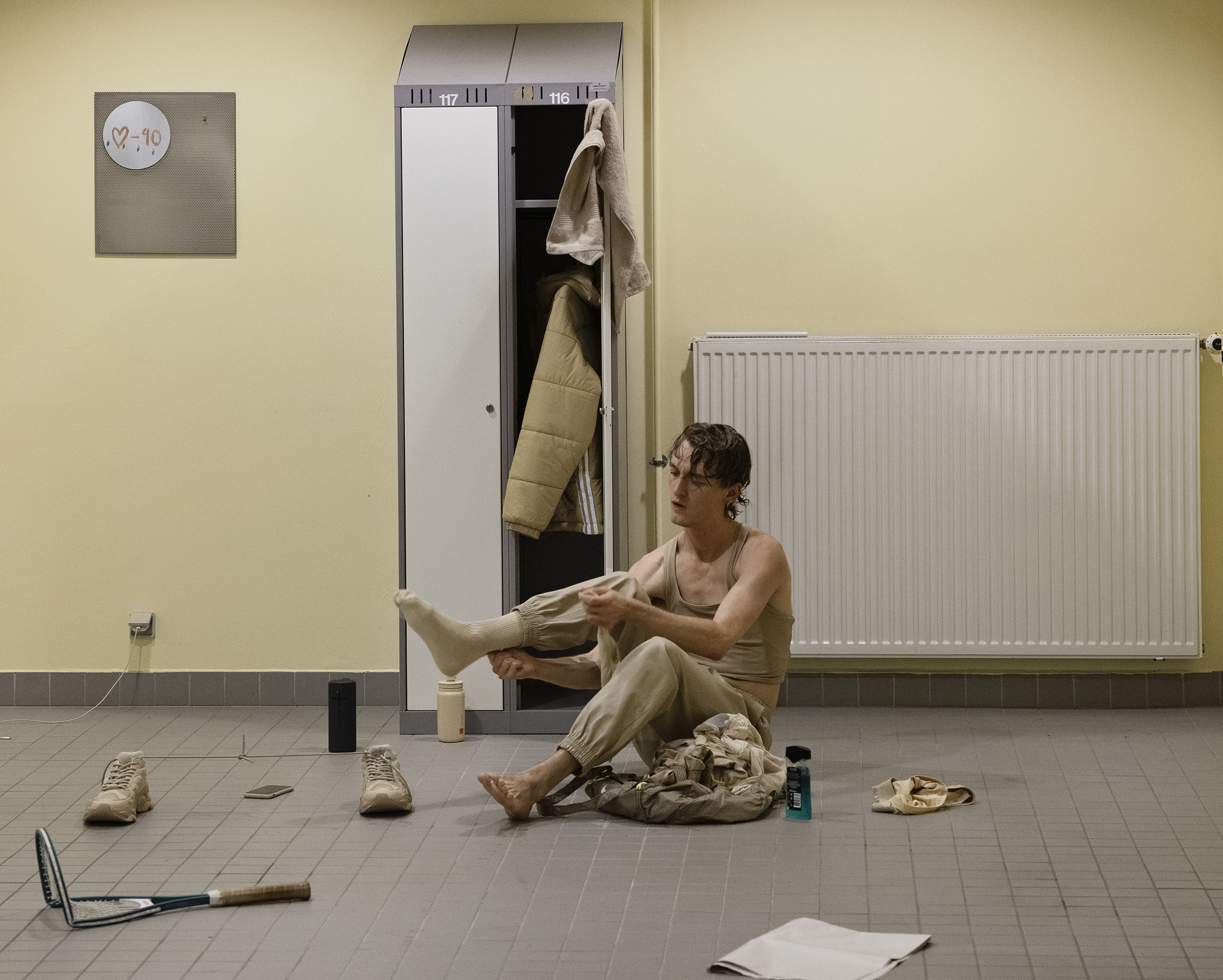 In 1917, the Danish tennis player Leif Rovsing (1887-1977) was banned from all tournaments because rumours about his homosexuality had begun to circulate. During the following years, he tried to contest the decision again and again, but with no luck. Eventually he ended up building his own tennis court that opened its doors in 1921.
"Foot Fault" is a reimagining of Rovsing's tennis court. It's an exhibition about rules, sex, queer bodies, (tennis) fields of one's own, and losing as a form of winning.
KHM Gallery 2, MFA graduation show, June 2021
Copenhagen Contemporary, performance, September 2021
Bed made to look like body
Installation, performance, sound piece
Bed Made to Look Like Body
is a performance in the form of a monologue. We follow a person sitting in a hotel room waiting for a date. The waiting person has turned off their phone so that the other person cannot call and cancel. As time goes by, we experience the waiting person's anxious thoughts, inner monologues and attempt to kill time while the light changes and day turns into night.
When there is no performance, the visitor can experience the work as a sound installation. In this version of the monologue, the "I" of the work changes into a "you" so that the listener now becomes the waiting person, listening to the sound of their own thoughts told by the objects in the hotel room.
The work was made on the occassion of Nikolaj Kunsthal's 40 years anniversary show where they invited me to respond to the film
Tango
(1981) by Zbigniew Rybczyński. The installation is constructed as a stage setting that integrates Rybczyński's
Tango
and enters into a dialogue with it through its study of vulnerability, loneliness and dissolution of time.
The title of the work is borrowed from Maggie Nelson's poem
Wheels
from her collection of poems
Shiner
.
Nikolaj Kunsthal, 2021

"Klubb Ergi", Ergi.XYZ, 2021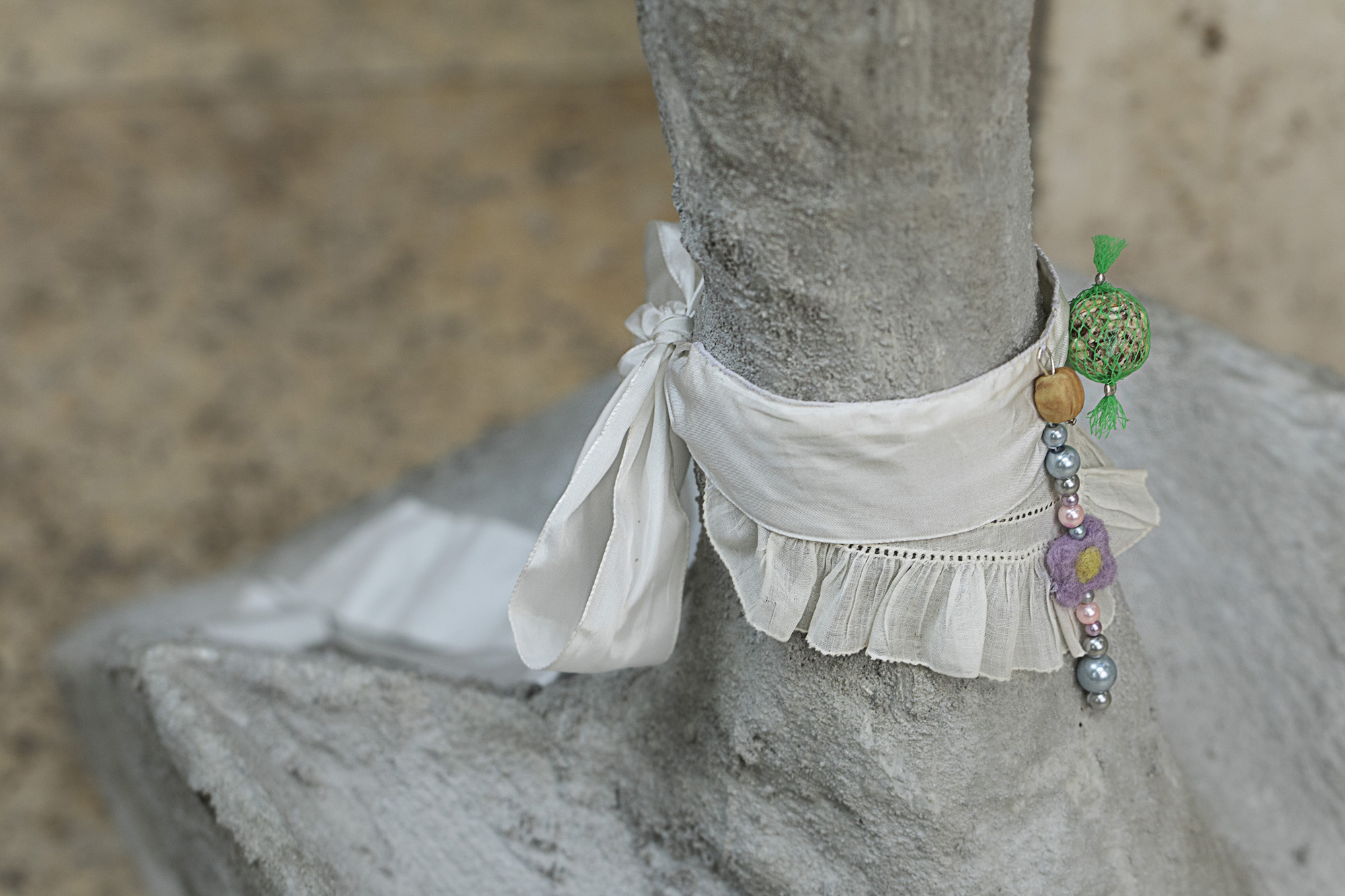 Searching for Nigel
is an exhibition about love and distance, humans and animals, lost carrier pigeons and messages left on read. It's a story about how a boy fell in love with a bird and how a bird fell in love with a statue.
The exhibition consists of a group of sculptures, architectonic interventions and a film. The orangerie will be inhabited by gannets with necklaces and drawings on seemingly misted windows. In the ballroom you will be able to watch the central piece of the show: a film mixing documentary and fictional material in a hybrid between a rom-com and a missing people documentary.
The film is based on the story of a group of scientists who tried to start a colony of gannets on Mana Island by luring them in with gannet sculptures in concrete. Only one real gannet arrived at the island, Nigel, who ended up falling in love with one of the concrete sculptures.
A solo show is never a solo show, because no one creates alone. Therefore there's an exhibition within the exhibition. Gannets love giving each other gifts. This photo of a gannet giving a necklace to their partner inspired a similar gesture in the show. I invited a group of friends to make small pieces in the shape of jewellery for the concrete gannets in the show. The artists are: Rebekka Hilmer Heltoft, Therese Bülow, Frederik Albrecht, Anna Walther, Karin Hald and Marie Vedel.
For the opening experience designer M Beydin created a vegan edible sculpture inspired by eggs.
<
Watch excerpt
Marseille, MANIFESTA, group show curated by The Winter Office, november 2020.

Villa Kultur, Copenhagen, "Searching for Nigel", September 2021. Supported by Snabslanten, Statens Kunstfond and Det Obelske Familiefond.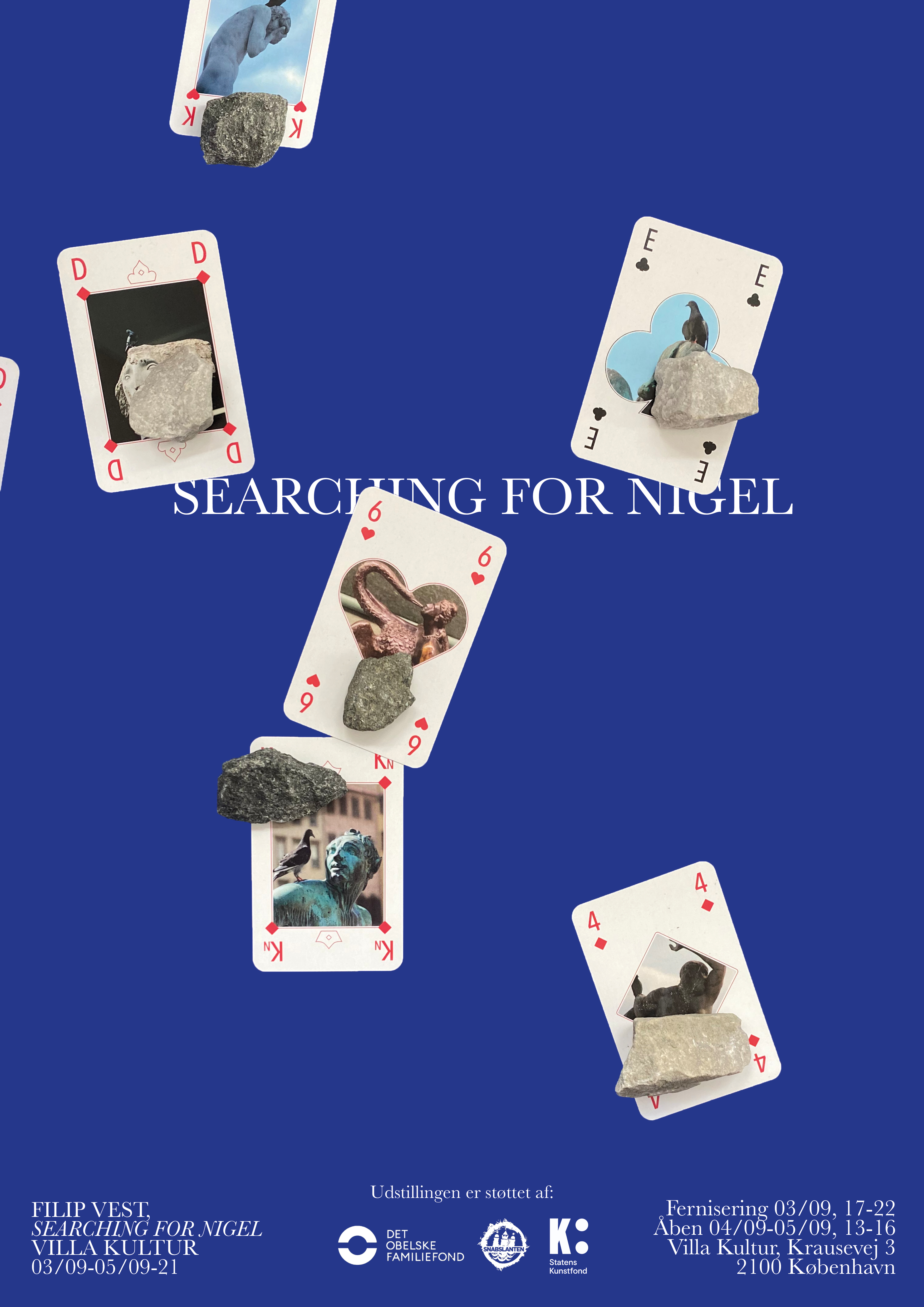 My cherry lips have often kissed thy stones
My cherry lips have often kissed thy stones
is a monologue revolving around the character Wall from
A Midsummer Night's Dream.
It's a story about how to become a wall, about the lovers who are separated by the wall and about what the wall has to say in this network of bodies and objects. It's a hybrid between a lecture, a lip sync and a play on walls and humans, on Eros and glory holes and on holding a brick in your hand and declaring that you are a wall.
What can a talking wall teach us about love?
Duration: 30 minutes
"Mellemting mellem ting", performance festival at Den Frie curated by Heine Klausen, Copenhagen, November 2019